Ikki resembles hakka but without the clothes it is one of the starters for aquarius.
Official Moga Dex text:
Ikki are skilled at navigating the spirit realm, a world just beyond the world of living.
Zodiac: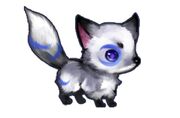 Aquarius
Rarity:
Uncommon
Location(s):
Attacks:
Physical:Kick(lvl 1-14)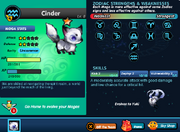 Physical:Roundhouse(lvl 15+)
Zodiac:Tornado
Special:Vulnerability
ikki`s name is also the name of the main character in medabots.
Ikkis are an item in Gaia Online called "Ikki the Kitsune"
Ikki's Tornado attack's random ability along with Ikki's own special ability can cause over 1000 damage!