Ronal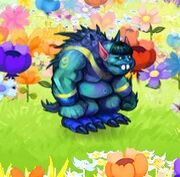 "Evolving from the small, playful Dinho, Ronal trades in quickness for sheer power."
If we combine the Ronal and Dinho names, we get the name of famous footballer Ronaldinho.
Rarity: Uncommon
Zodiac: Virgo
Statistics:
Attack: 1
Defense: 3
Method to obtain:
Ronal can be evolved from 3 Dinho's and 2 Evolution Potions.
Attacks:
Physical: Kick / Roundhouse
Zodiac: Long Ball / Power Punt (Confuse)
Special: Zodiac Strength