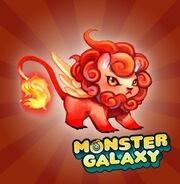 "Tituses are feisty little devils, overflowing with white-hot energy. They might look cuddly, but you're likely to melt if you touch one. Like a pint-sized sun, Tituses bring warmth, and the potential for catastrophe wherever they go." - MogaDex entry.
Profile Page
Basic
Zodiac: Leo
Rarity: Uncommon
Class: Tank
Locations
Rogues Rendevzous
Sandsink
Rune Dunes
Sandtown
Starter
Skills
Physical Attack and Leveled
Zodiac Attack
Special Attack
Zodiac Strengths and Weaknesses
3x Super Effective
2x More Effective
1x More Effective
Aries
Saggitarius
Leo
Libra
2x Less Effective
3x Less Effective
Trivia
Titus can obtained as a starter moga as well as Umbranine and Radiojack.